More Recipes Coming Soon
Pro Chef Cooking Up Content…
I am Joshua Walbolt
---
Professional chef, business owner, father, husband and content creator. There are a lot of things that I do, and they all revolve around food.
4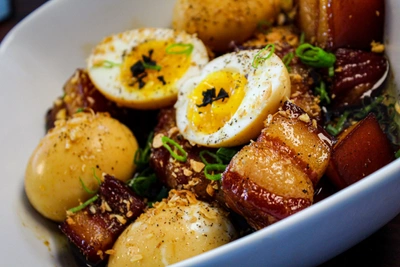 Candied Pork Stew
Kor Sach Chrouk or "Caramelized pork belly stew". Many southeast Asian countries have a version of this dish. The flavor profile are sweet savory, pepp …
Cook Me
5
Short Rib with Sweet Chili Sauce
Beef short rib is delicious as it is, but imagine after a nice long braise it gets deep fried with a crispy exterior and served in a delicious glaze.
Cook Me
6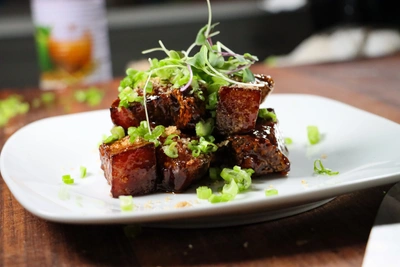 Kor Sach Chrouk Nuggets
Sweet, Savory pork nuggets fried until crispy and tossed in a sauce of caramelized palm sugar and Kampot Black pepper. This dish is a staple in many So …
Cook Me